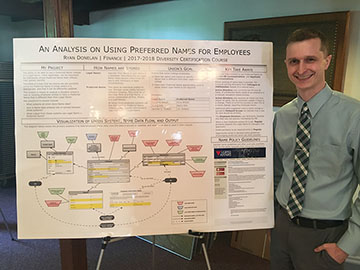 The Diversity and Inclusion Course focuses on enhancing cultural competencies and religious fluency by empowering the participants on understanding global issues such as disability, mental health, religion, LGBTQ+, cultural competency, and gender bias. Through the Union College Division of Diversity and Inclusion, we have designed a course covering topics related to equity, social justice and implicit bias that are relevant for the academic, social, and co-curricular learning spaces.
Participants complete a final project on any of the covered diversity issues as they relate to their department, their division, or the campus.
Printing is not supported at the primary Gallery Thumbnail page. Please first navigate to a specific Image before printing.