Preview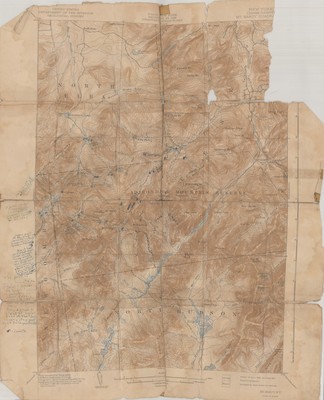 Description
Topographic map of Mount Marcy Quadrant, Essex County, New York. Surveyed in 1891-1892 by the United States Department of the Interior Geological Survey in cooperation with the State of New York - Henry Gannett, Chief Topographer; H.M. Wilson, Geographer in charge. Topography by E.C. Barnard and J.H. Jennings. Extensive marginalia by Kay Flickinger Dockstader. Original edition was printed in June 1902. Reprinted in 1940 by the Department of Public Works.
Source: Union College Adirondack Research Library
Physical Description
16 x 19.75 inches.
Keywords
topographic map, cartographic materials, Mt. Marcy, High Peaks, Adirondack Park, USGS
COinS